I took this picture of a blue jay painting my father did a few years ago. He's 77 now and battling cancer but he still paints when he can. He didn't even start painting until he was in his 50's I think. I consider all his paintings family 'treasures' and this is a great way to have a Keepsake without actually having the real painting in my possession.
Note that I used a paint program to move his signature from the corner,
to the center so it would be
visible
on a round plate before I uploaded at the link below. You can use the link to purchase this plate as is with my photograph, or use the 'Customize It' button and change my photo for your own. It's really easy and you can add names and dates too.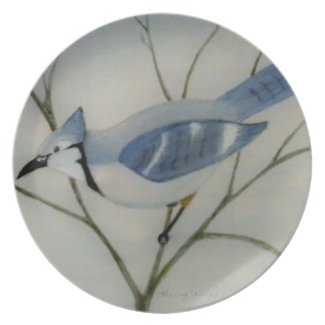 Customizable
Original Art Blue Jay Plate